Dodge's active head restraints are handing out free concussions. Mechanical breakdowns inside the restraints mean they could deploy randomly at any time.
In recent years, owners of Fiat-Chrysler (FCA) vehicles have been injured by random AHR deployments. Nothing makes you feel "safe" quite like the threat of random concussions while driving.
Active head restraints (AHR) were developed to reduce whiplash in crashes. They work in sync with an occupant restraint controller (OCR) that uses sensors to watch for rear-end collisions. If a collision is detected, a signal is sent to mechanically release a set of springs inside the restraint, propelling the front forward towards the person in an attempt to reduce head movement and spine pretzeling.
Inadvertent Head Restraint Deployments
Unlike most modern issues, it's not caused by an electrical glitch or bad code. In this case it's just some good 'ole fashioned mechanical breakdowns. Specifically, a plastic pin and hinge that keep the restraint in place are breaking under the prolonged tension. Once the plastic cracks, a metal rod is torn from its position and the AHR deploys.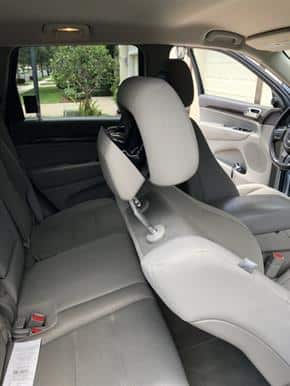 By design, AHR systems deploy with a lot of force and that usually comes with a lot of noise. Those are things you might not notice in a crash because, well, there's other things going on.
But if the AHR deploys on a sunny drive to the grocery store? It's enough to shock you and at the very least put you in a dangerous driving position.
The defective design and manufacturing of these internal plastic pieces is under scrutiny. Owners are tired of FCA saying the problem is the result of poor maintenance or tampering.
Did anyone else get a pamphlet on how to maintain our headrests? No? Didn't think so.
Class-action lawsuit filed in Florida
In January of 2019, a proposed class-action was filed in Florida blaming FCA for using defective plastic brackets to hold the AHR in place.
The lawsuit specifically mentions the Dodge Avenger and Jeep Cherokee as vehicles which see that bracket failure.
The allegedly defective piece of plastic holds a short metal rod that is latched into two metal hooks located on the back of the headrest. Those hooks are attached to a sensor that triggers the hooks on the front and back of the headrest when a crash occurs._  The whole system is in prolonged tension, and the plastic simply can't handle the stress over time. It also doesn't show any outward signs of trouble before breaking.
Additionally, the plaintiff wants to see FCA cover AHR replacements or resetting under warranty. She has resorted to using zip ties to pull her headrest back together, because replacing the restraint is expensive.
Resetting the AHR can be costly
Beyond the headache of getting slapped in the head by your car, there's also the headaches that come along with repairing or resetting the AHR.
FCA claims that the restraint can be reset by an owner and there are instructions on how to do that. But those instructions aren't that helpful when the internal components have shattered into plastic shards.
Owners claim that AHR replacements aren't covered under warranty and, according to data collected by the lawsuit and CarComplaints.com, repairs can cost owners up to $800.
AHR Systems Have Been Recalled for Module Problems Before
This isn't the first time FCA's AHR has been in the news. Back in 2013, when it was still just Chrysler, the automaker issued a head restraint recall for 500,000 vehicles due to  faulty microcontrollers … that could cause the system to fail.
A handful of years later another 470,000 vehicles were recalled after an internal investigation revealed the occupant restraint control modules can degrade over time.
Combined, the recalls affected the 2011-2013 Sebring and 2012-2013 2001.
Luckily, those modules were pretty easy to fix and didn't create any additional danger. In the same way a broken escalator just becomes a set of stairs, a busted module just removes the active part from a normal set of head restraints.
---
The Dodge Avenger, Nitro, and Jeep Liberty were also involved. ↩